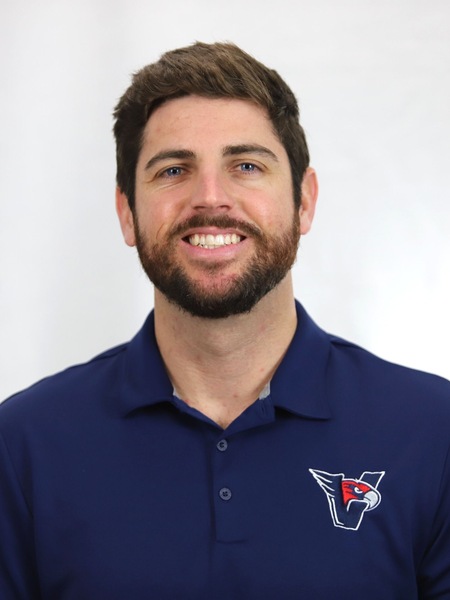 With the V-Hawk baseball season fast approaching, there is a gap left to be filled in the program in the head coach position. The V-Hawk's former head coach of seven years, Brian Lewis, accepted a new head coaching position at the University of South Carolina-Beaufort. The hunt to find a new head coach began for Viterbo Athletic Director Barry Fried. 
The choice became clear to name Jon Grana, Viterbo's assistant coach, to the position. Grana already had connections with most players and has been around the program, which made the decision even easier for Fried. In his seven years with the V-Hawks, he has focused on player development, while also being a main pitching coach along with coaching the catchers as well. During his time as assistant, he coached eight players who earned all-conference honors as well as two Golden Glove award winners. Those Golden Glove winners were also All Americans. 
Throughout his own playing career, Grana first found himself at Cerrtios Community College in Norwalk, California, for two years before transferring to Viterbo where he earned academic all-conference one time. It benefits the players that he has been in their cleats on the same Viterbo field, running the same bases and sitting in the same dugout. With Grana already having a connection to the program in being a seven-year assistant coach, he is able to understand how the players feel and he is able to act on it, making the V-Hawks the best they can be. 
Chance Claman is in his second year at Viterbo and plays on the baseball team. Chance is confident in the coaching staff adjustment saying, "I played with him before, so I feel pretty confident about the upcoming season. He coaches well and excels under pressure and tough situations. I have no doubt we will find the same success if not more this upcoming season." Claman's confidence in the team shows just how impactful Grana has been not only as an assistant coach, but also the legacy he left as a player for the team. 
Even though the V-Hawks' spring season is still months away, Grana and his team have already gotten right to work, preparing for their upcoming season by doing preseason activities. Claman reports, "To prepare we have practiced many times. With a new head coach, during practice we are all adjusting to the new coaching styles, plays and habits on and off the field. We have done many indoor drills, speed and strength training and many hitting drills that benefit bat path and bat speed."  With this preparation and the newly added leadership of Jon Grana, the V-Hawks are in good hands and are looking to blow any expectations out of the water and excel exponentially in the spring.