Dr. Richard Kyte: leading students through the ethical life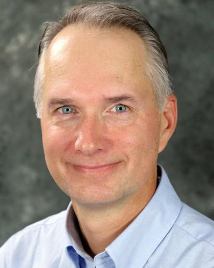 Dr. Richard Kyte is the Director of the D. B. Reinhart Institute for Ethics in Leadership and an Endowed Professor of Ethics here at Viterbo University. The impact he has on his students is built on years of teaching, during which he came to understand that "learning is social." He explains, "Our minds are shaped by the relationships we have with one another and a lot of it is done through talking." Kyte implements his findings in the classroom, ensuring that all his students are given the opportunity to grow in higher education. 
Dr. Kyte explains that he "fell into" this career. He started his time at Hamline University having not declared a major yet. In the course of taking general education classes, he discovered his fascination for philosophy. "There was no end to the questions that you could ask," he said, "and so I loved that about it." Dr. Kyte ended up graduating with a BA in Philosophy in 1984. 
He continued his studies at Johns Hopkins University, receiving his PhD in Philosophy in 1994. Kyte's time at Viterbo started in 2000 when he saw an ad posted for the new institute for ethics and leadership. "I was looking to do the kind of work that would be highly engaged in the community and also be able to supplement undergraduate education programming," Kyte says.  
The ethics portion of Kyte's interest came during his time at graduate school when his first child was born. "I was really interested in the question: how do we raise a child to be a good person? And so, I decided to do some research on what we know about moral development." That topic ended up being Kyte's dissertation, and the intersection of ethics and philosophy became the foundation of his career for the next 29 years.  
The writing didn't stop with that dissertation, as Kyte has written four books and published a multitude of editorial columns in the La Crosse Tribune. His books are "An Ethical Life: A Practical Guide to Ethical Reasoning" (2012), "Ideas Unite, Issues Divide: Essays on the Ethical Life" (2013), "Ethical Business: Cultivating the Good in Organizational Culture" (2016), and "Intervals of Hesitation: Essays on the Ethical Life" (2022). They cover a wide range of modern issues and look for answers through an ethical and philosophical lens. Kyte is also on a weekly podcast called "The Ethical Life" with Scott Rada which discusses timely cultural phenomena through philosophical dialogue. 
Students taking classes with Dr. Kyte can expect to experience his passion up close. "I love helping young people learn how to ask better questions," he says, "and how to think about things more profoundly than they're accustomed to." Kyte insists that his favorite courses to teach are a VUSM 400 class he leads with Professor Tom Thibodeau, and a master's course on environmental stewardship. Readers interested in taking these, or other courses instructed by Dr. Kyte, can talk to their advisor.