Women's bowling season ends at home, men advance to sectionals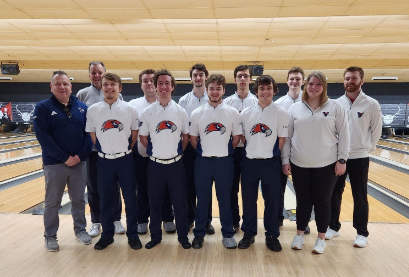 Another season of Men's and Women's Bowling has concluded, and although there were ups and downs, many feel that this has been a successful season. The men have a young core sustained through senior leadership, while the women have been battling to compete all season.  
The Lumen sat down with Senior Captain Matthew Wejrowski to discuss his time on the team and the ways that the team has stuck together throughout this season. Wejrowski is an engineering major, four-year member of the bowling team, and a member of the golf team.  
The women had an up and down season this year, and ultimately failed to qualify for the sectional tournament. This year was the first in fourteen seasons that they did not make it as a team, but that's not to say that the women did not compete to win. "They battled all year with injury, but they never quit," said Wejrowski.  
They showed their determination when, at their final of four conference events, the women won five matches in a row to move up to fourth place on the season in conference standings. Lynn Piekarski bowled a team high average of 200.1 for six games and a team high 226. Ceri Deacon matched this score, coming in with 226 in her final game. Freshman Haley Bogdon had back-to-back games of 204 and 200 and finished with a career high average of 180.7. 
While the women may have struggled to find team congruency, it is apparent that multiple individuals found bursts of success during the season. Piekarski was a rock for the V-Hawks all season, winning an event early and making the GLBC All-Conference team. This is Piekarski's second All-Conference team in four years of competition. 
The men were able to find their footing late in the season, coming in sixth place at their Conference Championship in Milwaukee, Wis. Brayton Fandrich had his best event of the season there, averaging 209 for six games. He was followed closely behind by Anthony Pope at 203 and Wejrowski at 199.  
At the home event at Pla-Mor Lanes, Brayton Fandrich was again the top performer for the men, claiming sixth place at the tournament with 1025 over six games. Calvin Schneider was the second-best performer for the men, finishing with 1016 pins. Piekarski claimed another podium, placing third with 939 pins. The men and women placed third and second respectively.  
From March 10-12, the men will travel to Addison, Ill., where they will compete in the USBC Sectional Tournament. It is the third straight conference appearance for the men.  
It has been a season of adversity for both the Men's and Women's bowling teams. However, the teams battled hard and competed throughout the season. After individual wins and high-caliber performances, the 2022-23 Viterbo Women's Bowling season has come to an end. The Men are preparing for USBC Sectionals and are less than three weeks away from their final tournament.