Viterbo welcomes new co-ed athletic program to 2023 spring season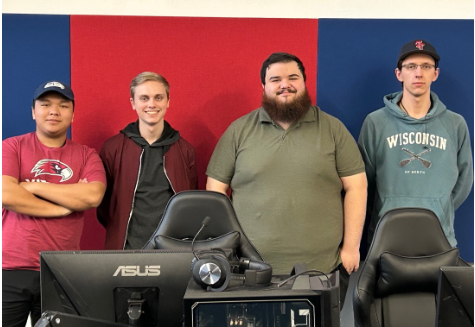 It's the dawn of a new era for Viterbo University athletics and the wider world of sports. As the inaugural Viterbo esports athletes know, athletics are no longer bound to the confines of a field or court. Competitive gaming is the newest co-ed sport at Viterbo University, and the team's first season of play is underway. 
Viterbo's esports teams were founded in November of 2022, and tournaments began on Feb 7. They compete in the Varsity Plus division of the National Association of Collegiate Esports (NACE) Starleague. Their main titles are Overwatch, Fortnite, and Valorant, but other teams are in the works for titles such as Call of Duty and Rocket League. 
Fans interested in watching esports players compete can watch every event if they choose. Tuesday nights are Overwatch at 6 p.m.; Wednesdays are Valorant at 7:30 p.m., and Fortnite is based on qualifiers, but takes place on Saturdays. Students interested in watching the teams compete can tune in on twitch.tv/ViterboEsports, with Ben Fleuchaus providing in-depth commentary on gameplay. Fleuchaus is the team's announcer and is also a competitor on the Men's Track team at Viterbo 
The first esports match in school history was an Overwatch match on Feb. 7 against Keiser University-Jacksonville (Fla.). The V-Hawks did not come to mess around, winning their first game mode. In the second game mode, it was a tough battle, but Keiser took it home five to four. In the end, it was a decisive 3-1 victory for the V-Hawks, capped off with back-to-back wins in 'Escort' and 'Push' respectively.  
The Fortnite team—whose events take place in the 'duos' format—consists of Draven Williamson and Brenden McDonald. Both also compete on the Valorant team where they have proven to be 'goated' in multiple games. 'Goated' is a term used in gaming to describe elite gamers. The first competition was on Saturday, Feb. 11., and Viterbo athletes wasted no time proving their talents, winning the first game with 10 eliminations. By the end of the tournament, the duo took second place out of 30 in their conference, landing them a one-way ticket to the college finals in March in their first week of eligibility. 
The Lumen sat down with Coach Sam Clark and Valorant Captain Mikey Voge to discuss the responsibilities of being part of the new team, as well as the complexities of competitive esports as a college sport. Voge also participates on the bowling team, and many of the other athletes play on other Viterbo sports teams as well.  
The teams have a rigorous and structured practice schedule. Coach Clark described Valorant practices in depth, saying, "We practice twice a week. We'll start with a VOD review, so we'll watch our last game, or we'll watch a pro game" to learn new tactics. Then, they "Find a scrimmage game versus another college and apply the skills." These practices give players knowledge they can then apply in their own time in solo games.  
Esports is an individually driven discipline, with competitors taking their success into their own hands. Mikey said of his individual practice, "When I'm not here, I'm watching YouTube videos trying to learn new tactics or mechanics." He elaborated that esports "Doesn't require other members of your team for practice." With this level of practice available to competitors, esports is one of the most time demanding sports, and skill ceilings are high because of it. 
With six more weeks of competition before the season wraps up, there is sure to be exciting news coming from our newest co-ed offering. The Valorant, Overwatch and Fortnite teams are already proving their talents, and other teams are reportedly on the way. It's an exciting new frontier for athletics, and Viterbo University has embraced the esports phenomenon.