Viterbo welcomes McKnight as new counseling services director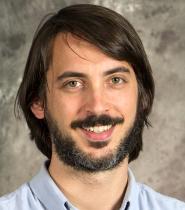 At the beginning of the spring semester, Viterbo welcomed a new director of counseling services Justin McKnight into the office.  
 After former counseling director LeeAnn Van Vreede's departure, it was clear that Viterbo would need to commit to finding a new director for its counseling services department. After a long search, they hired Justin McKnight.  McKnight spoke to the Lumen on February 28 about his vision for counseling services and his background in taking care of students.   
McKnight says his career in counseling started "informally about 15 years ago when I volunteered in a program for men who had been court ordered to attend a group to address cycles of violence and control, they had been perpetrating in their life."  McKnight would go on to operate a private practice in La Crosse before working for La Crosse County Human Services in their Juvenile Detention Facility.  
McKnight cited previous jobs in helping inform his desire to become a counselor. "Prior to becoming a counselor, I worked as a teacher and coach" shared McKnight. "It was in these experiences that I learned that what we observe behaviorally often stems from a rich internal world that gets overlooked or others fail to fully appreciate."  
McKnight has lived in a variety of different states, sharing that he "originally grew up in a small town in central Pennsylvania…but also lived in St. Louis, Missouri, for about seven years" during his 20's.  McKnight has long been a resident of La Crosse and graduated from Viterbo with his Master of Science in Mental Health Counseling in 2016. He will have lived in La Crosse for ten years come this June.   
 Viterbo was no accidental choice for McKnight. He shared that the university's "focus on promoting student well-being" and its ability "to grow in remarkable ways" was important to him. "I am honored to be tasked with continuing to move our office forward" he said.   
McKnight's mission for counseling services is all about collaboration.  "A trend in high education is looking at creative ways to help connect services on campus and generate collaboration that makes student support work seamless, regardless of whether we're talking student affairs or academic affairs" he said, adding that he sees "Counseling Services as being an important link in that work at Viterbo" but for right now" it will be strengthening those ties we currently have and work at building more collaborative partnerships to better serve our students."  
McKnight concluded his talk with the Lumen by reflecting on his mission as a counselor. "What interests me most about this career is getting to know new people and being given the privilege to try to understand their experience."  Viterbo students can find Justin McKnight in counseling services located on the third floor of Murphy.