Dissonance grows between Viterbo students and Residence Life over guest policy
Editor's Note: This is the first installment of a multi-article series that aims to cover the ongoing conversation of public health and student independence. The Lumen has, in plan, a follow–up with Residence Life but is also open to cover possible solutions, additional student responses, or important information from medical experts.
What is the responsibility of a university to make decisions about improving students' health? What is the ability of any higher institution to control the choices of those who belong to it? What is the tipping point between mental and physical health? All these questions arise when consulting an anonymous poll focused on Viterbo's COVID-19 guest policy conducted by the Lumen February 15 through 19 and completed by a 37 anonymous Viterbo students. In their responses, students expressed a mixture of acceptance, frustration, and downright anger over Viterbo's altered guest policy during the COVID-19 pandemic.
As it currently stands, Viterbo has a zero-tolerance guest policy, which allows no individuals to be admitted to any apartments they do not live in. Part of a grander plan– including requirements for face masks, social distancing in class, and daily health checks–the policy has been established "to protect the most vulnerable members of our local and campus communities," according to an email sent February 1 by Margy Krogman, director of residence life.
In her email, Krogman outlined "a concerning uptick in violations of Viterbo's COVID-19 policies" and informed all on–campus residents that "the offices of Campus Safety and Residence Life will issue no reminders or warnings this semester regarding mask usage or guest policy violations." Krogman specified that no exceptions would be made for students either caught in–person or "those observed by security cameras."
"I think it's needed," one student replied when asked how they felt about the use of security cameras for disciplinary purposes, adding, "It sucks, but if people want to continue being safe, they need to be cautious." Another student referred to this as "a bummer…but… something we all have to put up with."
The majority of those surveyed, however, were not as pleased. Four separate students referred to the video usage as a "violation of privacy," and one student, particularly upset, referenced "the authoritarian control of Viterbo residence life… trying to suck more money from the students' pockets for no reason." In the Lumen's poll, responses to the policy ranged from understanding to outrage, but asking how they felt about Viterbo's guest policy reflected a more general disagreement (see figure 1).
Figure 1: Student satisfaction with guest policy.
Of the reasons cited for disagreement with the policy, concerns surrounding mental health loomed. "I'm very depressed," one student stated candidly. "I'm a very social person and it's hard not being able to hang out with my friends." Another student wrote, "We pay to live on campus and should be allowed to have guests in the places that we are paying to stay in," and another, "It may encourage people to spend time with others outside of their home, in places such as restaurants and bars, where spread is even more possible."
One student raised a more specific concern saying, "There also shouldn't be free passes for RA's. Why can there be co-ed family units, where someone has 3 other roommates but still have their boyfriend, who is an RA, be a family unit? Seems like the guest policy benefits those the university wants it too."
Students also mentioned the benefits of the policy. "Too many people in one small place can be bad for our low numbers," said a student. Another added, "less possible exposure to the community [helps] keep 'family units' consistent."
With over 80% of students expressing their discomfort with the policy, responses of enthusiasm were harder to come by than those of criticism, but students were also vocal about what policy they wanted on campus (see figure 2).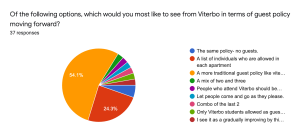 Figure 2: Student responses to future guest policy options.
One student explained, "I don't think that in-school exposure and having guests over is what spikes cases. Not being able to police students outside of campus, like partying or going to party in bars around strangers is what spikes cases. People going home and bringing that back to campus is what spikes cases. Someone having a guest over, that they probably would already have been exposed to regardless would not make a difference. There was always an issue with breaking guest policy before, so of course people will break it even if it is changed, just like people break it now."
On February 1, Krogman finished her email regarding COVID-19 policies to students with a couple of reminders: "While you may not agree with these policies, you are still obligated to follow them. Thank you for your attention to this matter as we work to keep everyone safe, healthy, and comfortable as we keep our doors open during this global pandemic." The Lumen will be reaching out to Krogman and the Office Residence Life for our next issue for a follow-up response from Residence Life.
For a full compilation polling data, please contact Calum Sullivan at csulli71797@viterbo.edu.